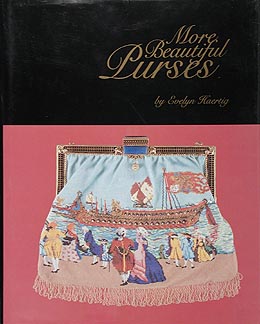 "More Beautiful Purses" by Evelyn Haertig. This is the definitive book on antique purses, in my opinion. A brilliant, dazzling coffee table book, it might seem very expensive, at first glance, but WORTH IT!!! Not only are the pictures beautiful, but there is so much information. The author spent years researching and compiling valuable historic info and details of how these purses were made, even how the beads were made. Most books on the subject of purses are pretty price guides with no real substance...not so here.
I remember meeting Evelyn Haertig in Chicago the year she debuted this book (1990). She came here only once to do a show. I had cover-price shock when first hearing about the impending availability of the book. But when I came to the show and saw it, I knew it was worthy of its price. Evelyn told me that it cost her a quarter of a million dollars to publish the book, the cost of printing it was so high, she had to have it printed in Japan, couldn't afford the US printing. Also, she said to me, "You will always find another purse to buy, but having this book will teach you so much, it is an education on the subject never before available." She was right. You will be a better collector, better able to assess purses, and it will deepen your appreciation for purses in ways you cannot imagine. I especially love her extensive chapter on Art Nouveau Leather Bags, all American made, as no one else has delved into this purse category with such in-depth info, including photos of the bags being made by both men and women in American factories. (Art Nouveau leather purses, the 'day purse' of choice, and popular for 15 years, 1915-1930.)
I particularly like that Evelyn did not include values in her book. Since she was a very well known shop owner in Carmel, CA and had clientele such as Cher, Candace Bergman and Barbra Streisand, she could name any price, and her customers would pay it. Evelyn told me that one day Cher came in to her shop and said, "I'll take this one, that one, that one, that one and that one," and walked out of the shop. Behind her trailed an assistant with an open checkbook, and she merely asked, "How much?" Thankfully, Evelyn realized that prices vary from place to place, and so she did not ruin the market for the rest of us by using her own price structure to inflate purse values to a level the average collector could not ever pay, back in 1990 or beyond. I'm forever grateful for that, because here in the Midwest, where I live, purse prices (as well as on all antiques) are substantially lower than on both coasts.
I so like the way Evelyn presented the book and outlined the various categories of purses, I have used Evelyn's chapter headings as categories in my own purse lectures over the years.
So, I highly recommend this book. It's gorgeous, photos are large, crisp and breathtaking, hundreds and hundreds of them. The book itself is 576 pages. It will remain the definitive book on the subject for decades to come.

Buy it now: More Beautiful Purses
This book, "Vanity Bags and Purses", does not included beaded purses, but covers well the subject of vanity bags, (those which include compacts), necessaires, minaudieres, carryalls, vanity chatelaines, clutches, etc, the styles popular primarily from the late 1930's to the 1950's, and also includes some lucite. 272 pages, idenification and values. If your tastes run toward this style of purse that includes the compact, this is the definitive book for you.

Vanity Bags and Purses, by Roselyn Gerson (Copyright 1994)
Published by Collector Books

Buy it now: Vintage Vanity Bags and Purses: An Identification & Value Guide